Bathroom Remodel, and Bath Remodel by Remodeling Contractor in Delray Beach, Boca Raton, Lake Worth, Boynton Beach, FL, and Surrounding Areas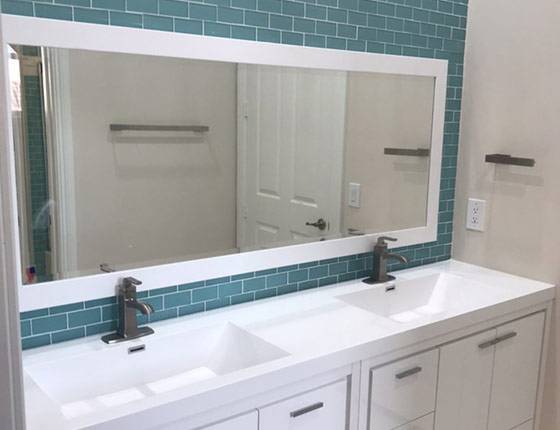 No need to look further for a bathroom remodeling contractor who will make your bathroom exactly what you want. KMR takes the time to understand what you want for your bathroom remodel and delivers on-time and on-budget.
Looking for a facelift for your master bathroom?
KMR will help get it done, from painting and tiling to toilet and sink replacements. Or maybe you need an entire additional bathroom for your growing family. KMR to the rescue! Electrical, flooring, plumbing and more, all melded seamlessly to the rest of your house. From start to finish, KMR will be there the entire way, making sure that you get what you envisioned.

Let KMR Be Your Remodeling Contractor
KMR has the expertise and experience as a remodeling contractor to get the job done right. Having done dozens of bath remodels, using KMR as your remodel contractor means that you have an advocate on your side and someone that knows who to bring in to get what you want: expert plumbers, electricians and more.
Remodeling is a great way to get the bathroom that you want, while updating the general appeal of your home. Not only will it be functional, but you'll get the latest styles and trends. They will make sure all aspects are taken care of so all you have to do is enjoy the finished project.
GET ESTIMATE
KMR As Your General Contractor
KMR has outlined a winning strategy that they use as a general contractor. Whether it is home remodeling, home construction, commercials construction or other projects, KMR will take you step by step through the process for a successful outcome.
OUR PROCESS:
Fact-finding – listen to what you would like to accomplish, gather info.
Design – group meeting with an architect to draft a design.
Value Engineer – subcontractor input = improved design + cost savings.
Management – permitting, scheduling, ordering materials, budgeting.
Execution – coordinating all work while protecting finished work.
Learn More