How long has to been that you have been living in the same house? You should understand that after a certain point, all houses face several kinds of damage which need to fixed, especially the bathroom needs fixing because it is exposed to water all the time. Moreover, over the period of time, home interiors also undergo a change and trends come and go. In order to keep up with the times and ensure the value of the property is not compromised, you have to work on the bathroom too. We, at KMR Enterprises, can be the right solution for you. We are an established and experienced company which can provide you with a variety of home improvement services, right from kitchen and bath remodel to general contractors of home renovation. We are known for our quality workmanship and tremendous dedication and commitment. We have a team of experts who have amazing ideas for remodeling and are also well-versed with the repairs and renovation work. So, if you belong to areas such as Delray Beach, Lake Worth, Boynton Beach, or Boca Raton, then you can rely on us.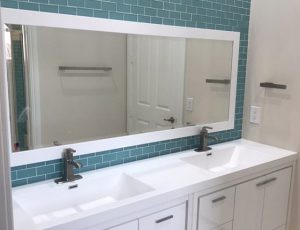 Here, we have put together a few things to check about the bath remodel while carrying out such a service. Take a look. 
You have to focus on the fact that the bathroom cannot be too cluttered. It creates a lot of inconvenience and spoils the bath area. That is why add more vanity in the area to store everything properly and categorize it carefully. 
You have to next check the functionality of the faucets and pipe lines. Over the years, the faucets can get damaged. You have to ensure these are of the latest kind and can provide maximum functionality. 
And if you are thinking of hiring us, then contact us today.