Delray Beach Bath Remodel Services
There may be several reasons why you may need to remodel your bathroom. Some may be because you are not happy with how it is, or it is just time that it gets remodeled. Circumstances may also force you to do some remodeling of your bathroom. Whatever the reason is for your bathroom remodel project, KMR Enterprises General Contracting will treat your project like they would if they were working on their own home.
Bathroom Remodel in Delray Beach: Tiles, Tubs, Showers, Sinks, and More!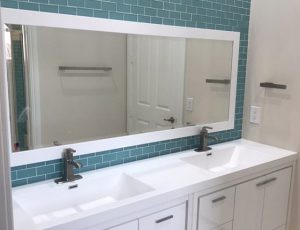 When you start diving into your bath remodel project, there will be a lot of choices for the fixtures that you will want in your new bathroom. Do you want to tile your floor, or will another choice be better? Do you want a combination tub/shower, or would you prefer your tub and shower to be separate? How big would you like your sink to be, and do you want just a single sink or a double sink?
All of these choices will provide you the opportunity to customize your bathroom so that it turns out just as you desire. This bathroom remodel will allow you to make sure that everything is safe and up to current codes with wiring and plumbing. You can also take advantage of the latest options with your fixtures as well, such as adding a comfort height toilet.
There are some additional benefits that you may not have considered when starting your bathroom remodel project. First is that it gives you a chance to make sure that there is no damage from moisture in the walls and ceiling. When your bathroom gets put back together, you can rest easy knowing that it is done the right way. Additionally, if you wanted to have more storage in your bathroom, you can probably add it without affecting any other room in your house.
Bathroom Remodel in Delray Beach, FL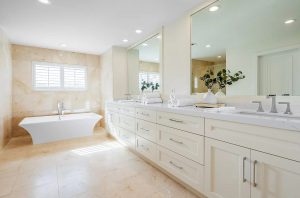 Don't underestimate the power of a bath remodel project. You may think that it isn't a flashy room compared to a kitchen or a living room, and while that is true, it's a room that gets used daily, often multiple times a day. Having a space that is efficient and inviting really adds value to your home, and makes living in your home a blessing rather than a curse. For more information on bathroom remodel projects in Delray Beach, FL contact us today.
In 1911, Delray Beach was chartered by the State of Florida as an incorporated town. In the same year, pineapple and tomato canning plants were built. Pineapples became the primary crop of the area. This is reflected in the name of the present-day Pineapple Grove neighborhood near downtown Delray Beach. Downtown Delray Beach, located in the eastern part of the city, has undergone a large-scale renovation and gentrification.