A kitchen experience is a lot of grease and grime. That is why it tends to give away faster than the other parts of your house. If you have been living in the same house for quite some time now, you will notice the first signs of damage in your kitchen. That is why you must carry out a kitchen remodel immediately. We, at KMR Enterprises, can be the right solution for you. We are an established and reliable company which has been in this field for a long time. We can provide you with all kinds of general contracting, kitchen, and bathroom remodeling, two even interior and exterior design consultation work. We are known for our huge variety of services under the same roof along with our sense of professionalism, efficiency, and utmost dedication for all our customers. So, if you belong to areas such as, Boca Raton, Boynton Beach, Lake Worth, or Delray Beach, then you can opt for us.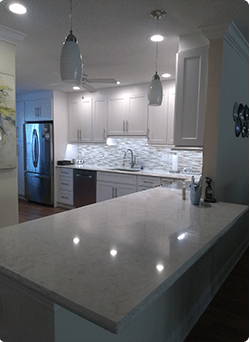 Here, we have put together a few things to lookout for while choosing your kitchen remodeling service. Take a look.
Carrying out a remodeling service is not going to be an easy job. You will require proper efficient, qualified, and well trained professionals to help you so that you can get an Immaculate service. That is why you must check the background information of the professionals and see if they can actually add value to your requirements.
You must have a set budget in your mind for these kitchen remodeling services. All you have to do is take quotes in advance from different companies and match it with your budget. This will help you understand if it is an affordable choice for you or not. If needed, you can also compare these codes with others and then choose wisely.
So, if you are thinking of choosing us, contact us today.