Are you thinking of purchasing a house? Or have you already purchased one and are you thinking of using your outdoor for a cooking space? Outdoor kitchens are quite a popular kitchen trend that many smart and modern homeowners are using. Imagine having a barbeque night in summer with all your friends and family. But you must get professionals to design and install this kind of kitchen for you. We, at KMR Enterprises, can be the right choice for you. We are an established and reliable company which has been in this field for a long time. We can offer you various kinds of services that will add more value to your property and fetch you greater returns. Whether you want home constructions, new home additions, or kitchen and bathroom remodeling plans, we can help you with everything. We are known for our quality services and an immense amount of commitment towards our clients. So, if you belong to areas such as Delray Beach, Lake Worth, Boynton Beach, or Boca Raton, then you can opt for us.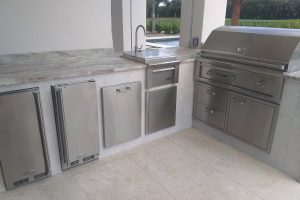 Here, we have put together a few tips that will help you find a company that can help you with such outdoor kitchens.
Take Recommendations
You should look first to take referrals from people regarding a company that can help you with outdoor kitchens. Ask around in your friends and family who have experience in building such kitchens in the outdoor space.
Research Online
Another way to find a company that can help with such home additions is by researching online. You should shortlist a few companies from the internet depending on the sort of reputation they have in the market. Go through their client reviews and feedbacks before making your choice.
So, if you are thinking of hiring us, then you must contact us now.